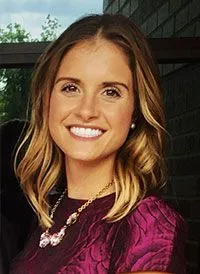 I was born and raised in small town Iowa. It is a quiet place where everybody waves at everybody. From a young age I was known as the neighborhood babysitter, because of my strong passion to care for children. It was then that I knew nursing was the right path. I attended Mount Mercy University in Cedar Rapids, Iowa where I received my Bachelor's degree of Science in Nursing. Once completed I moved to Kansas City, Kansas for my very first job in a level III neonatal intensive care unit (NICU). The NICU is where I have spent my last 5 years as a Registered Nurse.
As a nurse, I was intrigued to learn more and have a larger role in the care of the pediatric population, so I began my Masters program through Maryville University in St. Louis, MO. When I originally started the online program, I was living in Texas and working as a travel nurse. The flexibility of the online program allowed me to continue working as an RN in the NICU while going to school. In the summer of 2016 my husband, who is a member of the U.S. Coast Guard, was relocated to the Bay area. Here I completed the remainder of the program, graduating with my Master's degree of Science in Nursing as a member to Sigma Theta Tau and The National Association of Pediatric Nurse Practitioners. I have been very fortunate to complete many of my required clinical hours here at Tri-Valley Pediatrics and am extremely honored to become part of this great team.
Outside of work I spend most of my time with my husband and two dogs. I love staying active, especially playing volleyball, hiking and running. If I had to choose just one thing about the Bay area that I love most, it is the endless opportunities to be outdoors.